Arbeiten, feiern, protestieren.
So oder so ähnlich läuft mein Leben gerade ab. Mittlerweile arbeite ich ja jetzt schon fast ein Monat… WHAT?! 1 MONAT! (krass schnell gegangen) bei Bosch. Und ich bin mittlerweile schon so krass in die Planung einer Innovationswoche eingebunden, dass ich vermutlich nicht mal dran denken brauche während des Besuchs meiner Eltern früher von der Arbeit zu gehen. Aber ich muss sagen, die Verantwortung und die Entscheidungskraft, die mir da gleich mal in die Hände gegeben wurde, gefällt mir schon gut.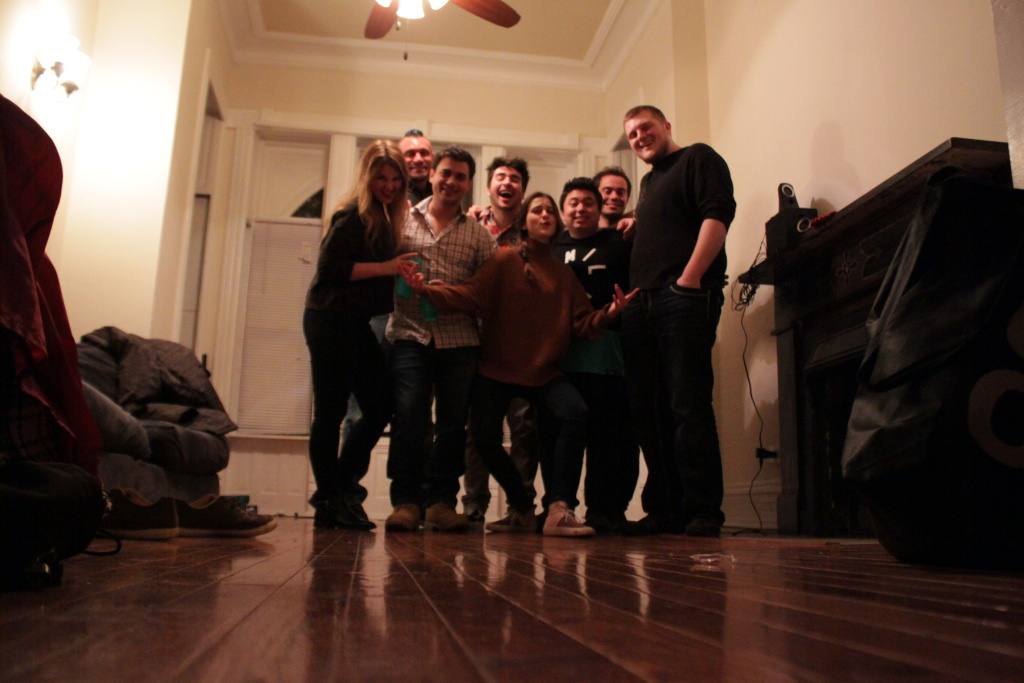 Das Beste an der Arbeit sind allerdings die Arbeitskollegen. Gaaanz viele Brasilianer/-innen, die mir den Tag versüßen und auf deren Hilfe man sich immer verlassen kann. Mittlerweile habe ich auch rausgefunden, dass dieser Nationenmix, der in Amerika vorhanden ist, auch genau das ist, was mich so langsam in Liebe mit diesem Land fallen lässt. Noch ein Grund weshalb Trump einfach nicht President werden sollte. Würde ganz schön trist werden hier, wenn man all die Ausländer und Immigranten aussperren würde, Period.
Protest
Jaja, dieser Trump(l)… natürlich hab ichs mir nicht nehmen lassen, bei seiner Rede in Chicago an der UIC vorbeizuschauen. Weit gekommen bin ich allerdings nicht. Waren zu viele Protestanten und die hatten vielleicht Energie. Hat den Großen gleich mal ganz klein aussehen lassen und so sehr erschreckt, dass er gar nicht erst auf die Bühne gekommen ist. Noch ein Grund weshalb ich Chicago so liebe – diese Leute lassen sich einfach nichts gefallen.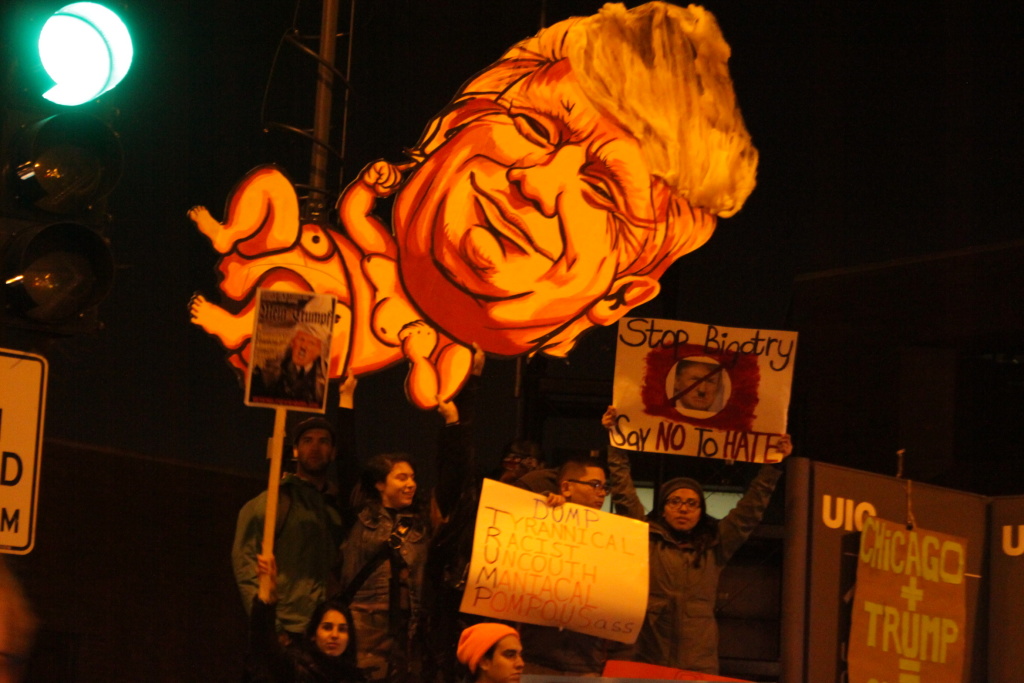 Allerdings hat mich die aggressive Art trotzdem sehr erschreckt. Als die Leute aus dem Gebäude gekommen sind durften sie sich die krassesten Schimpfwörter an den Kopf werfen lassen und auch ich kam unter Beschuss, nur weil ich zufällig den gleichen Weg gelaufen bin. War verrückt zu sehen, wie sehr diese Gruppendynamik die Leute gepusht hat. Naja, als ich am nächsten Tag dann mal meine Mails gecheckt hab, wurde mir schon bisschen anders:
Trump for President als Absender hält mich jetzt immer schön über die Kamapgne auf dem Laufenden. Da kann ich eigentlich drauf verzichten. Well at least it found its way into the right folder! Kommt halt davon, wenn man sich n gratis Ticket zu der Rally holt.
Jedenfalls ist morgen der Tag der Wahl für die Primaries in Illinois, Ohio, usw. und meine Gastschwester ist das erste mal dabei! Go, Eve!
Party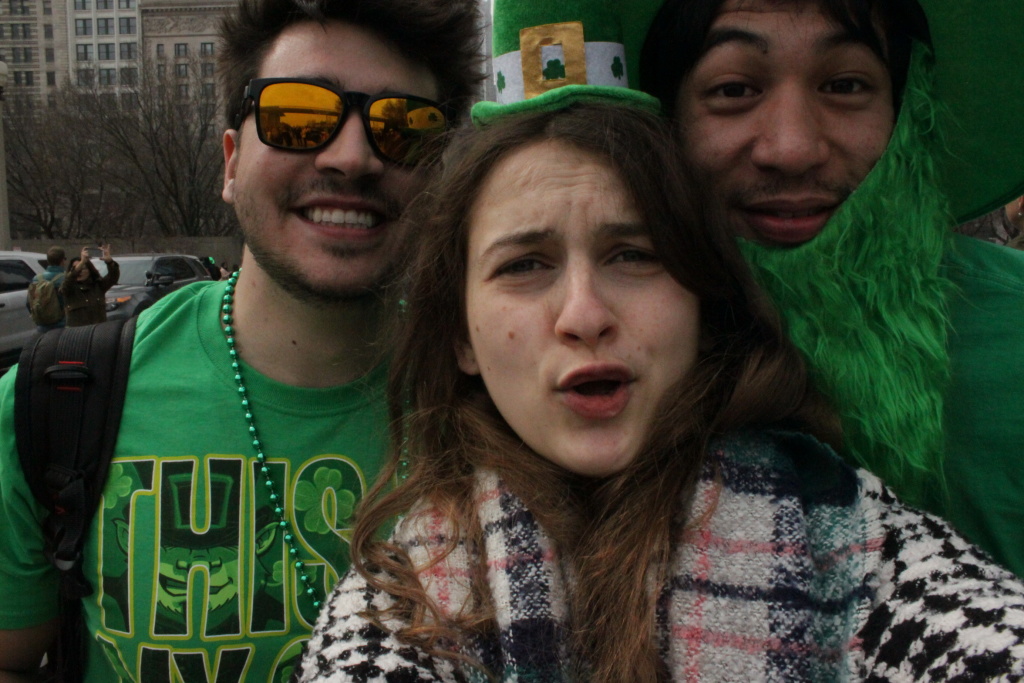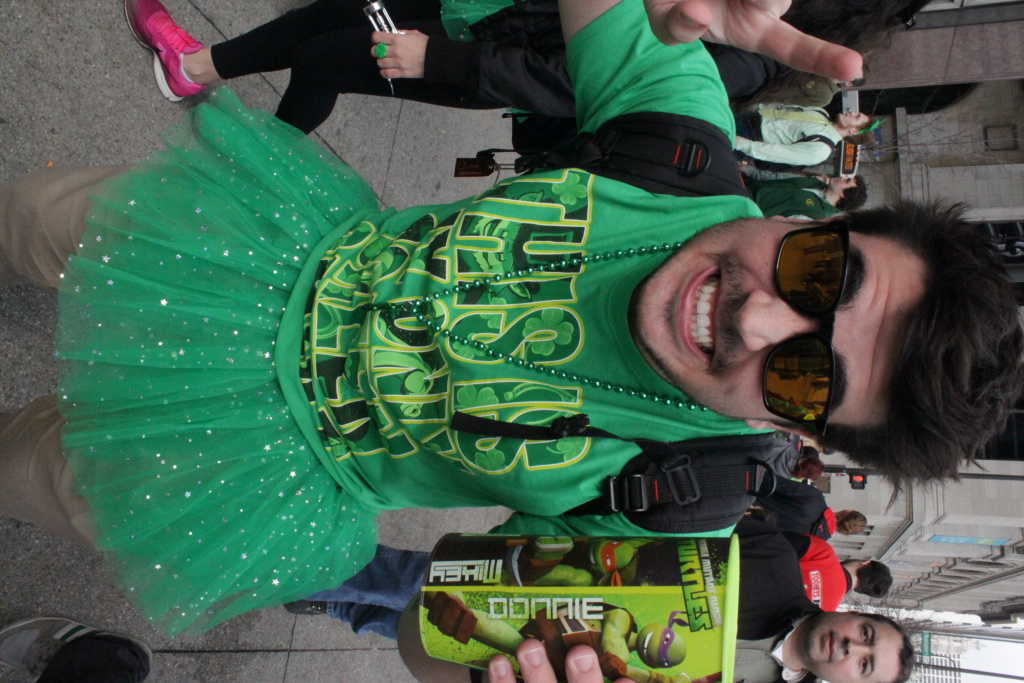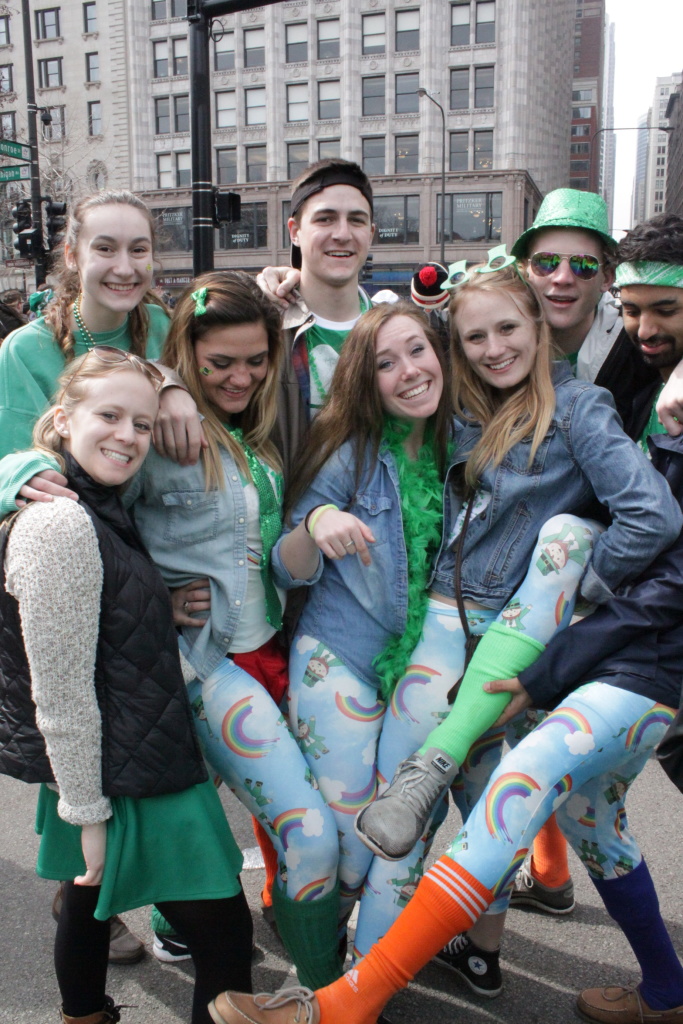 Dieses Wochende hieß es St. Patrick's Day und grüner Fluss! So viel grün auf einen Haufen, wie an diesem Wochenende in Downtown Chicago hab ich noch nie gesehen. Und mit meinen einmaligen Brasilianern und Nicole (deutscher Intern) war das auch einfach unvergleichlich! Die Jungs (also meine Arbeitskollegen) sind mir in so kurzer Zeit schon echt hart ans Herz gewachsen: my Chicago-Family <3. Kein Wunder! Sind mit mir ja schon gleich am ersten Abend, an dem wir zusammen feiern waren, durch dick und dünn gegangen:
Nach dem 3 o'clock Club auf der Milwaukee Ave. und einem Chillout bei den Jungs haben wir entschlossen, dass ich zu müde bin um nach La Grange zu fahren, also ab, Auto in ihrem Hof parken. Als wir dann auf dem Weg zu meinem angestammten Platz waren, war mein Auto weg. Ernsthaft?! Mein Geld, Ausweis, Klamotten, alles mögliche in der Karre. Hat das etwa jemand geklaut?! Ich war sprachlos. Wäre ich in diesem Moment allein gewesen, hätte ich mich auf den Bordstein gesetzt und geheult. Stattdessen musste ich aber cool bleiben! Bin in den nächsten Seven-Eleven… fragen ob die was verdächtiges gesehen haben, kann ja nicht schaden!
Im Endeffekt hat sich dann rausgestellt, dass mein Auto abgeschleppt wurde, weil man ACHTUNG: In Chicago zwischen 1. Dezember und 1. April, von 3 bis 7 Uhr morgens, nicht am Straßenrand parken darf. Auch, wenn da eine Parkuhr steht und das eigentlich erlaubt wäre. Kann man halt als Touri nicht wissen. Und ohne Schild, sowieso nicht.
So wird man halt auch locker mal 170 Dollars los. Nächstes mal dann doch "L" fahren.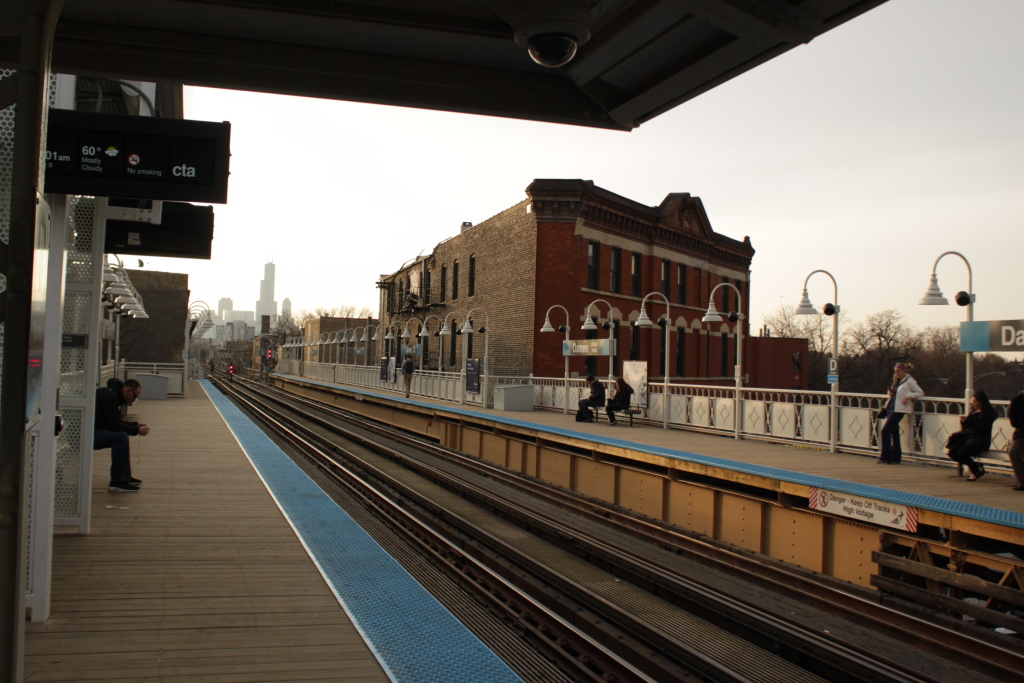 An dem Wochenende wurde ich dann auch gleich noch von nem Polizisten kontrolliert, als ich abends rechts rangefahren bin, um mein Handy zu checken. Man, Auto und Chicago geht einfach nicht zusammen!
Und die Party geht weiter! Wie oben schon kurz angesprochen: Mama und Papa kommen zu Besuch!!! Donnerstag! Und ich kanns einfach nicht fassen! IN 3 TAGEN!!!!!! Ooohohohohow, ich muss schon fast weinen vor Freude! Wird cool! Kind of a revival of the time, when we were here in 1999.
Stay tuned!